Procida island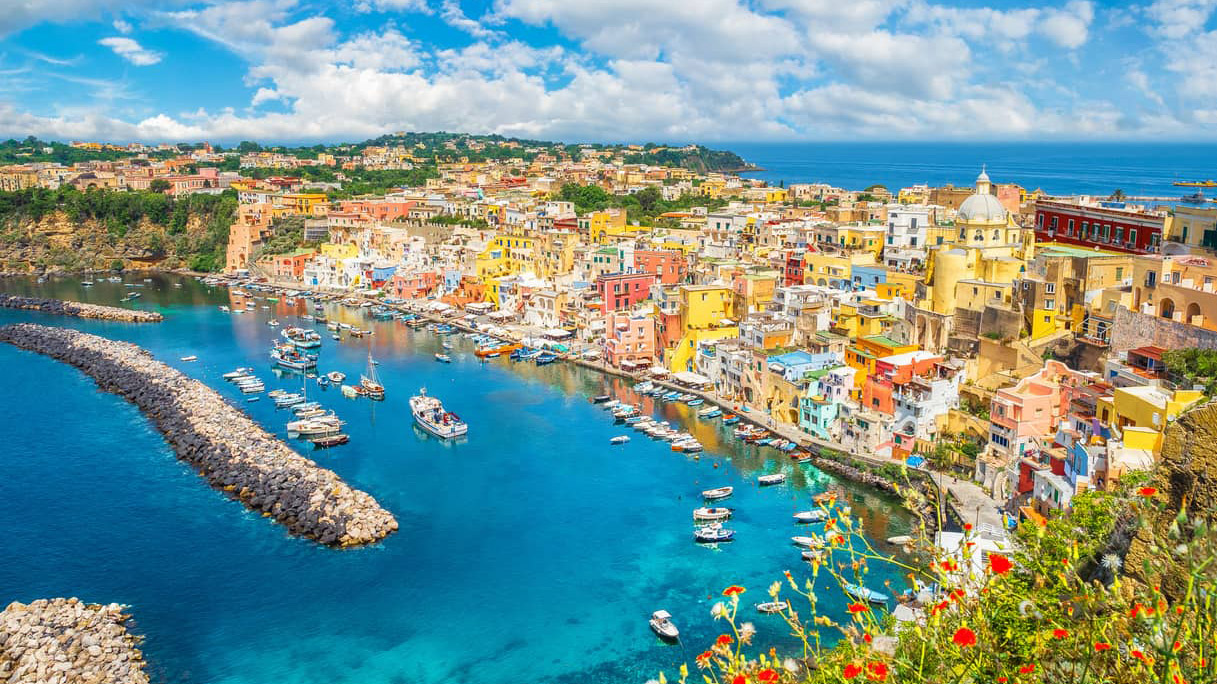 Procida, a volcanic island in the Tyrrhenian Sea, is located at the mouth of the Gulf of Naples, between Ischia and Capo Miseno. It is smaller than its sisters Ischia and Capri, but has almost 11,000 inhabitants.
Its volcanic origins are evident in the landscape: the coast is in tuff and overlooking a crystalline sea, with inlets and traces of ancient craters, the hinterland is instead undulating, fertile and covered with a typical Mediterranean vegetation that offers the visitor a landscape of rare beauty.
Procida is characterized by a particularly mountainous territory that makes its landscape even more fascinating with overhangs, panoramic terraces overlooking an emerald sea and rugged and steep coasts carved out of caves.
Terra Murata rises on the highest promontory of Procida. Its name was first Terra Casata which then became Terra Murata because, due to the continuous pirate raids, Cardinal Innico d'Avalos d'Aragona, feudal lord of the island, had the Castle of Avalos built and built around the citadel of the bastion walls in the which the Iron Gate was opened. In this way the palace would have made the village inaccessible from the sea but would also have given the Cardinal a worthy home. Over time, the Castle became first a royal residence and then a prison.
The Marina di Procida developed during the sixteenth century. At the center of the Marina stands the church of the sailors dedicated to the Madonna della Pietà and to San Giovanni Battista. It was built in 1619 and has always been financed by the families of the sailors. It has six precious marble altars beyond the main altar. Noteworthy on the altar is the wooden group of the Pietà in whose silver heart are enclosed the names of the sailors who donated the fruit of their sacrifices to the temple. Around the church the activity of the port takes place and all the typical folkloristic events take place.
La Corricella is a small and picturesque fishing village where all the cultural and socio-economic identity of the island is most likely preserved intact. Inaccessible to traffic, the fishing village is very reminiscent of a nativity scene with pastel-colored houses climbing stairs and arches.
Procida is reached by the company's motor ships with land stops of about 3 hours and tours of the island by sea included in the excursion by sea.