Ischia island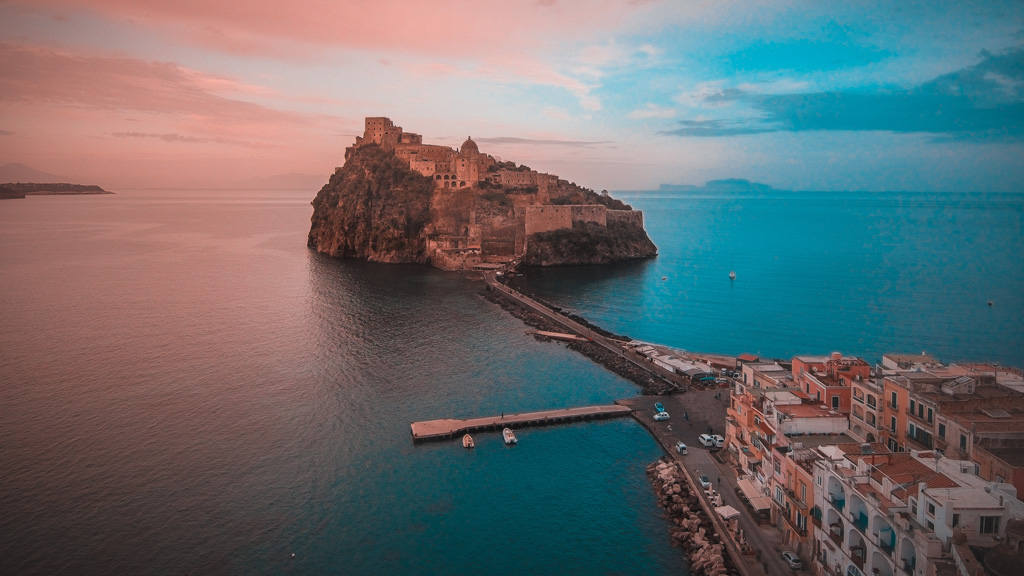 Among the enchanting islands that surround the Gulf of Naples in a circle, Ischia is not only the largest but it is also the most varied for the many and continuous discoveries it reserves for those who are really willing to get to know it thoroughly.
This island, trapezoidal in shape, of about 46 square kilometers, with a coastal development of about 34 kilometers, enjoys one of the most privileged geographical positions in the world and is one of the most favored places from a climatic point of view. In it, wide and sunny beaches alternate with restful pine forests while the countryside and the green hills, the rocky crags of the dominant Mount Epomeo, whose peak reaches 789 meters above sea level, create an infinite variety of landscapes to enjoy and offer multiple possibility of restorative walks and attractive excursions.
The island of Ischia, of volcanic origin, finally contains in its subsoil, as Strabone already stated, authentic "gold mines" for the extraordinary curative effectiveness of its eight thermomineral basins and its even more numerous springs, stoves, fumaroles and arenas.
Forio is, among the six municipalities of the island, the one that foreigners know and love the most "natural", for the beauty of its beaches, for the green of which it is rich, for a natural environment where beauty, history, tourism and poetry manage to get along.
Following in the hills, Serrara Fontana which, among the inland towns of the island, is endowed with a very particular rural charm, to which the immense and enchanting panoramas increase its charm. From the roundabout of the belvedere, which opens onto one of the widest views of the island, you can admire in the foreground the suggestive promontory of Sant'Angelo, with its two small bays. Sant'Angelo is the only marine gem of Serrara Fontana, a gem envied by the whole world!
Also famous for its thermal waters, its views, its pine forests, its sea and the completeness of the stays that can be combined with a wise and tasty Mediterranean cuisine and the warmth of its people, it is also the armament base of the Captain Morgan.
The units and trips of the Capitan Morgan offer a 3-hour tour of the island with a stop in the village of Sant'Angelo or one with a bath from the ship of the same duration but with a stop in some of the most characteristic coves.