About us
Capitan Morgan is today one of the major private shipping companies operating in the Gulf of Naples and engaged in the excursion sector with modern and functional naval units and a large number of on-board and ground employees.
Based in Naples but with an operational base on the island of Ischia, it combines the managerial and entrepreneurial skills of a modern company with the knowledge and art of navigation of its men engaged in plowing the sea from the Pontine Islands of Lazio to the Amalfi Coast passing through the Neapolitan islands and the Sorrento Peninsula guaranteeing a dense range of excursions for the benefit of the end user who thus has the opportunity to fully appreciate the beauty of the landscape and not only of this extraordinary piece of Italy.
The company was founded in 1993 by the merger of four companies each with a large number of maritime units: the Lauro Lines (with the M / N Freccia del Golfo, Primero VI, and Love Boat), the Buono Line (with the M / N Ischiamar and Uragano II), Mareviaggi (with the M / N Venus and Eros) and the Calypso Company (with the M / N Calypso, still the only unit operating in the Gulf of Naples with the typical keel with eight viewers transparent to admire the backdrop).
In the following decade, that is until 2003, it merged with a local competitor, giving life to So.Ge.Ma. and effectively concentrating the entire offer of lines and routes on offer to customers who choose Ischia for their holidays and who want to know the main attractions of the Gulf of Naples, Salerno and beyond.
From 2004 to 2010 we then returned to sail with the Capitan Morgan brand, a company of the Alilauro Group, and we witness the rationalization of the fleet in the current configuration with the M / N Ischiamar III, Ischiamar, Freccia del Golfo and Calypso.
To date, the company boasts an absolute record for innovative and technological motor vessels in the excursion sector, with revamping and installation of technological equipment on board the units.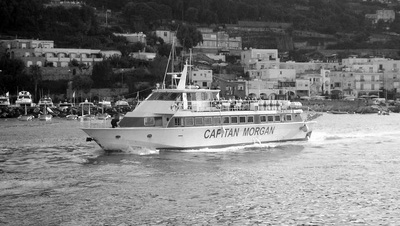 Corporate organization chart
| | |
| --- | --- |
| Presidente cda | Sig. Emiddio Barile |
| Amministratore Delegato | Sig. Umberto Buono |
| Consigliere d'amministrazione | Avv. Teresa Esposito |
| Direttore Commerciale | Sig. Emilio Lauro |
| Comandante d'armamento | Cap. Rosario Trani |
| Immagine, Marketing e Comunicazione | Sig. Paolo Tarallo |
| Responsabile operativo | Sig. Giovanni Terzuoli |